March 19, 2003
Palm art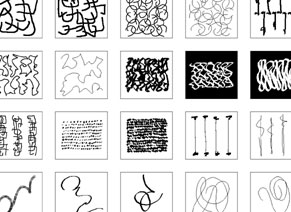 Dig this: The artist Tom Kemp drew 1,000 little paintings on his Palm Vx, using the TealPaint program. Then he assembled them into a 100 x 10 grid, and produced a piece of artwork called Analysis, which is 4 feet high and 16 feet long.
It's weirdly mesmerizing. It's like a modern riff on pointillization. Except in this case, it uses the atomic unit of digital life — a single screen of data on a Palm, a little brick of reality we spent so much time staring at all day long.
I love the idea of using PDAs for art. I once had the idea of doing an art project where you create a digital novel of an imaginary person's life, using the Palm software. You'd create their memos, their calendar, their contacts — the artifacts of a life lived. Then you beam it to someone to "read"; except, in this case, the reader would just poke around in the various bits of data to get a sense of who this fictitious person was, and what their life was like. It'd be like finding a diary on the subway, and leafing through it.
(I first saw Analysis a year ago, but forgot about it until recently Memepool posted about it.)
blog comments powered by