February 02, 2006
New species of flatworm fences with its penis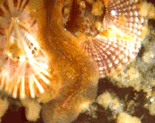 Apparently some Australian scientists have discovered a new species of flatworm that fences with its penis. Okay, "fencing" may be a slight anthropomorphism — perhaps a more accurate phrasing would be "a species of flatworm that does incredibly weird things with its penis."
From a story in the Sydney Morning Herald:
The new flatworms are all hermaphrodites, meaning they have both male and female parts. To reproduce they try to stab each other with their genitals. The first to penetrate inserts sperm and then goes on to spar with another flatworm, while the "loser" lays and broods the eggs.
Heh. Ah, the "loser" in the sexual conquest — talk about your anthropomorphizations.
(Thanks to John T. Unger for this one!)
blog comments powered by