February 07, 2003
Crash Bonsai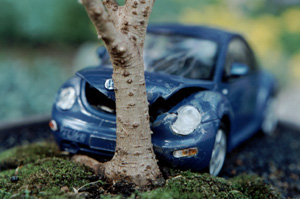 You know, with some items, there is really just no point in me commenting. From the web site:
CrashBonsai is the creation of John Rooney, an artist who is torn between the desire to create and destroy. Recently, he has been making bonsai plants, and combining them with model cars and trucks which he has creatively smashed and melted, to create "CrashBonsai," little living car crash sculptures. …

You'll find a variety of vehicles in crashed cars, their scales and dimensions listed. Each model is unique, and individually disassembled, cut, melted, filed, smashed, then reassembled to replicate a real fender bender. Some models might work perfectly with a bonsai you already have, but generally you should expect to create a new bonsai around the vehicles, often placing the tree more to the side of a pot to make room for the vehicle. …

Please note that CrashBonsai models are not just for bonsai alone. They look great on coffee tables, kitchen counters, smashing into lamps and toasters. Please feel free to email any questions prior to ordering.
Rooney is accepting orders now! Apparently, the models available include a "1953 Cadillac Eldorado", a "2001 Volkswagen Beetle", and a "1993 Exxon Tanker".
(Thanks to Rooney for forwarding this to me himself! The picture above is plundered from his site.)
blog comments powered by