March 26, 2003
Soccer-ball robots!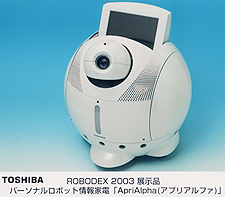 Well, not really. This new little 'bot by Toshiba just looks like a soccer ball. (Or, as Gizmodo put it, "it does kinda resemble one of those old Welltron 8-track cassette players.") In reality, it seems to be a personal robot for your home — but quite frankly, nobody seems to have a clue what the heck you'd use it for.
Unfortunately, the web site is only in Japanese, and though Babelfish tries mightily to translate it clearly, this is all we get:
This corporation this time, the equipment which is connected to foam/home network and, became mediation of the human who is the side which is used, there is no strange feeling anyone and simply those equipment can be operated as a " human interface " the " robot information home appliance " in concept, made on an experimental basis " the ApriAlpha ".

Future, supporting and nursing the housekeeping, lightly the performance which does job is added, you think the senior citizen and the family feel at rest and would like to keep developing into the partner who can live.
(Thanks to Gizmodo for finding this one!)
blog comments powered by