April 03, 2003
The Kraken wakes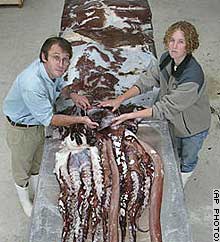 God in heaven. They just caught this giant squid off New Zealand. It weights 330 pounds and, apparently, was feasting on "Patagonian Toothfish" which themselves are about six feet long. As one of the scientists said in a story about this on CNN.com, "This is a very aggressive animal and moves quickly. If you fell in the water next to it you would be in big trouble."
No kidding. As the story also notes:
The half-grown female colossal squid is only the second intact example of the monster cephalopod known to have been found, said marine biologist Steve O'Shea of New Zealand's national museum.

"I've seen 105 giant squid, but seeing something like this is pretty sensational," O'Shea told Reuters.
Okay, maybe this guy is a bit blase after having stared down his 100th giant squid. But for me, this is more proof that we need something like a NASA space program for the ocean. Not to diss outer space — I'm as much of a fan of space exploration as anyone else, believe me. But if we can spent billions of dollars over the the last 30 years hunting for signs of life on hunks of frozen rock like Mars or Io, why the heck aren't we more interested in the deep sea? It's surrounding us on all sides, it's about 99.9% completely unexplored … and it's teeming with incredibly strange forms of life that want to kill us.
Man, I can't even look at that picture anymore. It's seriously freaking me out.
blog comments powered by