November 30, 2003
The ugliest building in the world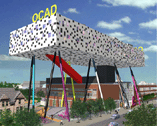 The board of the Ontario College of Art must have been dropped on its collective heads, because they just approved the above design for their new building. It's so ugly that I am completely bereft of words. I'll let the folks at Eyesore of the Month do the talking, since they — quite sensibly — bestowed the award on this ghastly exercise in CAD design:
Behold the new $30 million Ontario College of Art & Design classroom and studio building by British architect Will Alsop — a totemized retro-futuroid coffee table joined umbilically to its Soviet-style predecessor below. The message, apparently: art and design are nothing but fun fun fun. Nothing to get serious about. A playful spirit of induced hazard will keep students wondering when the checkered box might wobble free of its cute swizzle-stick legs and come crashing down on their heads. This exercise in hyper-entropic avant garde faggotry is so cutting edge that it is already out of date. The only question: which of the two conjoined buildings is more cruelly ridiculous?
Okay, "faggotry" might not be quite the word I'd use myself, but otherwise I couldn't agree more. I'm from Toronto originally, and the sad thing is, this building may not even be the ugliest one in town. the city has very strange architecture: Lovely Victorian buildings are mixed cheek-by-jowl with brutalist concrete nightmares that look as if they'd been picked up from Vladivostock, or perhaps a Doctor Who episode.
(Thanks to the J-Walk blog for this one!)
blog comments powered by