August 16, 2004
Squid stamps!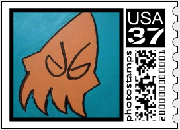 There's a new online service called PhotoStamps that lets you upload any picture you want — which they'll print on a set of stamps and send for you to use. It's kind of expensive — it costs about $1 for each .37-cent stamp — but I couldn't resist. I sent in a picture of one of the pieces of El Rey art I own, a "Surly Squid" painting, and ordered 20 stamps. Interestingly, I had to edit out the word-bubble that floats above the squid's head; in the real painting, he's saying "goddamit". But I suspected that would have violated PhotoStamp's predictably squeamish terms of service, which demands that you promise to not …
… upload, order for print, or otherwise transmit or communicate any material that is obscene, offensive, blasphemous, pornographic, unlawful, deceptive, threatening, menacing, abusive, harmful, an invasion of privacy or publicity rights, supportive of unlawful action, defamatory, libelous, vulgar, illegal or otherwise objectionable;
Much as I like the idea of customized stamps, it strikes me that it's sort of a sad moment for philatelism. Stamps are one of the most successful examples of public art — one of the few times Americans regularly interact with the amazing creative powers of the nation's visual artists. When you're mailing in your Verizon bill with a stamp made from your 4-year-old's face or the family dog — cool, sure, but a little bathetic too, isn't it?
(Thanks to Boing Boing for this one!)
blog comments powered by