February 24, 2005
El Rey blog!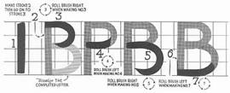 My friend the artist El Rey — who regular readers will recognize from many previous posts, including the time when my attempt to get his squid painting turned into a stamp was busted by The Man — has just started a blog! It's devoted to his thoughts on art, which are very cool and down to earth. In his first few posts, he tackles the question of color in paintings:
I still haven't sat down and fully thought out my views on color, but I know I care about 'em maybe disporportionately. If a picture has the properties of, say, subject matter, line/draftsmanship, color, and manner of execution, I'd say color gets half of my attention and the rest is divided up, with subject matter ahead of the others.

It's kinda similar to when I was just starting out in music and I got my first distortion pedal and guitar amp; the different noises I could make interested me more, really, than what notes I played. I got a Nord Lead 2 Rack synthesizer in a gear trade and I haven't used it much to actually play notes. More often than not, I just set a little serviceable gibberish loop going and tweak the knobs, rolling around in the delicious sounds exuberantly like a dog in something stinky. Color can be like that for me.
He also points to some way nifty outside resources that have informed his style, such as the Speedball pen technique that produced the exquisitely hand-lettered fonts on movie posters in days of yore. (That picture above is from a Speedball technique manual.) He points to this really jawdropping video of a current Speedball master tossing off note-perfect font letters by hand.
If you dig El Rey's writing, check out his online art gallery, and his new t-shirt store — SurlySquid.com!
blog comments powered by