April 28, 2005
Once more unto the breach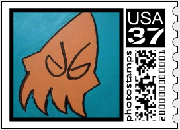 Astute readers may recall my attempt last year to get Photo Stamps to print some stamps customized with pictures of "Surly Squid" — an artwork by my friend El Rey. Though Photo Stamps had already blithely printed stuff featuring such mass murderers as Slobodan Milosevic and Ted Kaczynski, they decided that a squid stamp strayed beyond the boundaries of good taste — and refused to print my order. I was thus thrilled when the company summarily went outta business.
But now it turns out they're back again, claiming that their intial foray was not so much an exercise in clown-show ineptitude as a "test", as a spokeswoman told the Direct Marketing News. As the News reports:
Pets and children have been the most popular categories of images, according to Stamps.com, which has content guidelines prohibiting obscenity, copyright infringement and images of celebrities and public figures.
Maybe I should try my order again.
(Thanks to Boing Boing for this one!)
blog comments powered by