August 13, 2005
I see dead media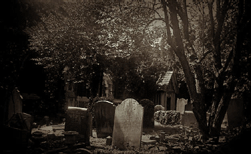 I always figured that old photos look old because they're, uh, old — i.e. they've spent a couple of decades mouldering in Aunt Ida's attic, and they've faded and creep-ified with age. But the blogger over at Smallest Photo recently got his hands on a fully-functioning Autographic Kodak Junior Model A from around 1914. He took a bunch of pictures with it, and sure enough, they too look as metallically eerie and ghostlike as if they'd been lost in archives for a century. That picture above is of the graveyard at St. Mary's Church in Wimbledon; he's got a few others at his site. Of the camera, he notes:
One particularly interesting feature is that there's a small door in the back which houses a metal stylus. By opening a small window that opened onto the back of the film paper as it moved through the camera and applying pressure with the stylus, you could compress the emulsion on the film. This allowed you to record a text image of your choice giving you the opportunity of naming each particular frame.This medium fomat camera takes 120 film. Speeds 25, 50, T, B.f stops 4 - 64.
A built-in f/x device! Anyway, I don't know why I should have been so surprised by these pictures; it's obvious that different media have different aesthetics. (My personal fave is the Fisher Price Pixelvision camera, which shoots images of such low-fi black-and-white weirdness that Michael Almereyda used it to shoot a vampire's-eye view of the world in his horror flick Nadja.) Though we tend to think that today's 9-bazillion-megapixel cameras are capturing reality with increasing precision, I wonder what sort of aesthetic bias we'll find it when, fifty years hence, we haul out the vacation shots we took this summer.
(Thanks to Jason Kottke for this one!)
blog comments powered by