December 05, 2005
The science of "beer goggles"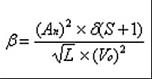 Most of us have, at some sodden point in our lives, learned the hazards of "beer goggles". Indeed, research shows that 68% of men or women who hand out a phone number at a bar regret it the next day — after realizing the hottie they'd met was, in fact, not.
But now a neuroscientist has actually worked out a formula describing the precise interaction of booze, lighting, and distance that produces this dread syndrome. In Nathan Ephron's equation, which is above, "Β" stands for the intensity of one's beer goggle effect, and it is calculated by these variables:
An = number of units of alcohol consumed

S = smokiness of the room (graded from 0-10, where 0 clear air; 10 extremely smoky)

L = luminance of 'person of interest' (candelas per square metre; typically 1 pitch black; 150 as seen in normal room lighting)

Vo = Snellen visual acuity (6/6 normal; 6/12 just meets driving standard)

d = distance from 'person of interest' (metres; 0.5 to 3 metres)

The upshot is that the effect isn't just about drinking: It's about visual ability. A dance floor lit by black-lit bulbs would produce an epidemiological surge of beer goggles. As Ephron notes, "someone with normal vision, who has consumed five pints of beer and views a person 1.5 metres away in a fairly smoky and poorly lit room, will score 55, which means they would suffer from a moderate beer goggle effect."
Presumably this stuff is a bit hard to calculate while you're smashed beyond all recognition, but as Barbie said, math class is tough.
By the way, this stuff was funded by the contact lens firm Bausch & Lomb.
(Note: In a bit of hilarious mistyping, I inititally wrote this post as "beer googles". And I didn't mistype it that way once — I typed it wrong the whole way through! What would one call the digital age version of the Freudian slip? A Weinerian slip? Thanks to my brother-in-law Rob for pointing out the error!)
blog comments powered by