January 19, 2007
New York Times travel writer reviews Airport Security game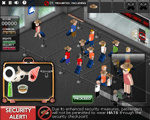 Joe Sharkey, who writes the "On the Road" column for the New York Times — devoted to the joys and perils of business travel — devoted his last column to an online Flash video game: Airport Security, created by Ian Bogost and the superbright designers of Persuasive Games. Like all of PG's games, Aiport Security picks a topic in the news — in this case, the weird and ever-changing bans on stuff you carry onto planes — and turns it into a game mechanic. You play as an airport screener, and you have to divest people of items (liquids, Preparation H, snakes, their pants) while trying to follow the rapidly shifting rules.
The best part is that Sharkey totally got the idea:
Online reviews of the game are, let's say, mixed. "It's kinda stupid," writes one critic. "It's the best game in the world!" raves another. I'll just say it's somewhat stupid, and requires fast reflexes and an ability to adapt to absurd and arbitrary rules changes.

Just like real airport security.
Heh. This is what I love about really good "serious" games — by tackling real-world topics in clever ways, they tickle the fancy of audiences who might otherwise never play games.
blog comments powered by