April 08, 2005
Altoids: The curiously weird role-playing game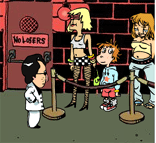 Many companies have recently begun crafting little Flash games to advertise their products. Most are just simple, one-screen-sized renditions of classic old-school arcade titles. But the folks at Altoids have really gone the distance — they hired a cartoon artist and programmer to create an entire role-playing adventure.
You play the part of a zitty, sweaty shut-in who meets a girl on instant messaging and convinces her to go on a date. He has to make it to the club, cadge his way in, and impress her. Amazingly, it's a pretty complex game, including many of the classic tropes of RPGS; there's even an inventory of objects you carry around and manipulate to solve puzzles.
They get bonus points for the wittily self-referential dialogue. At one point early in the game, I'm trying to figure out how to get into the lineup for a nightclub — there's a picture of it above — but the screen doesn't scroll any further right. So I start talking to the woman on the far right:
Me: How did you get into the lineup?

Her: By walking to the end and standing behind the last person.

Me: But the screen won't scroll that far.

Her: That's because you're a loser.
Okay, that's cute enough that I want to buy some Altoids right now.
(Thanks to Laura for this one!)
blog comments powered by