August 02, 2005
Chew it over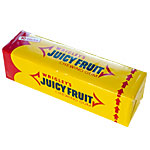 Does chewing gum improve your memory? Apparently so, according to a new study by three British scientists published in the latest issue of the journal Apetite. The researchers had 75 adults perform twenty minutes' worth of memory and attention tests. One third of the participants chewed gum during the tests; one third "mimicked chewing movements", and the remaining third did not chew at all. The gum-chewers scored 24 per cent higher on word-recall tests performed immediately, and 36 per cent higher when the tests were performed later. As the New Scientist reports:
There are three main potential explanations, says Scholey. In March 2000, Japanese researchers showed that brain activity in the hippocampus, an area important for memory, increases while people chew — but it is not clear why.

Recent research has also found that insulin receptors in the hippocampus may be involved in memory. "Insulin mops up glucose in the bloodstream and chewing causes the release of insulin, because the body is expecting food. If insulin receptors in the brain are involved in memory, we may have an insulin-mediated mechanism explaining our findings — but that is very, very speculative," Scholey says.

But there could be a simpler answer. "One interesting thing we saw in our study was that chewing increased heart rate. Anything that improves delivery of things like oxygen in the brain, such as an increased heart rate, is a potential cognitive enhancer to some degree," he says.
Interestingly, gum-chewing did nothing to improve "memory-linked reaction times", a key indicator of attention; so while chomping on some Juicy Fruit can bolster your recall, it won't help you keep fresh if you're spaced out. Nonetheless, gum companies like Wrigley have long touted the mental-enhancement effects of chewing — even boasting on its web site about how the US army has distributed gum to troops since World War I.
blog comments powered by