August 02, 2005
Vrooom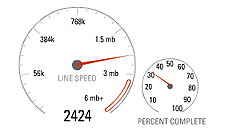 Back in those go-go 90s, Internet Service Providers loved using the iconography of race-car spedometers to illustrate the mindblowing joy you'd experience while surfing on their screamin' 56K dial-up connections. Now Speakeasy, the hipster left-coast ISP, has created a fun little Flash spedometer that measures precisely how fast your download and upload speeds are. Test your ISP and make sure you're actually getting the bandwidth you're paying for! Or, as Joe suggests:
Speakeasy is also useful when you're staying somewhere, like a hotel, advertising such and such high–speed internet: test it, then print out the results and bring them down to the front desk and demand a rate reduction for false advertising.

Might be amusing with the right manager.
Heh.
(Thanks to the Book of Joe for this one!)
blog comments powered by