September 02, 2005
Ben Franklin, mind hacker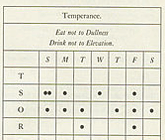 At age 20, Ben Franklin designed a plan for regulating his conduct for the rest of his life. As Flamebright reports, Franklin devised thirteen "virtues", including these:
Silence: Speak not but what may benefit others or yourself. Avoid trifling conversation.

Industry: Lose no time. Be always employed in something useful. Cut off all unnecessary actions.

Humility: Imitate Jesus and Socrates.

I love that final one, as a neat corrective to our age of religious fundamentalism, and those who'd like to claim Franklin for it. But what particularly tickles me is Franklin's obsessive, hacker-like systemization of a moral system. I can't imagine what sort of personal tracking he'd have developed if he lived in the modern age. Sprawling Excel spreadsheets? Galvanic-skin-response metering? Neural-net A.I. for future vice prediction?
(Thanks to 43 Folders for this one!)
blog comments powered by