October 25, 2005
Yeah, but the view is spectacular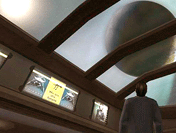 Dig this: A space station inside the online, multiplayer game Project Entropia has just been sold for $100,000. The buyer was Jon Jacobs, a very popular in-game figured known as "Neverdie". Why spend so much on a piece of virtual property? Because it's just like owning the Mall of America — it's a place to conduct business and make real-world cash. Indeed, Project Entropia currently has 236,000 registered accounts, and the game allows you to use Earth money to buy in-game currency, which makes it spectacular place for any entrepreneur to set up business, really.
From Project Entropia's web site, here's a description of the space station:
Designed as a Pleasure Paradise, the Resort built on an Asteroid is a monumental project aimed at being a primary destination for Entertainment in the known Virtual Universe.

Boasting a 1000 Apartment complex, Commercial Space Ship Docking, Themed Shopping Mall, Mega Stadium for championship sporting events, Nightclub with multiple Dance floors, Live Amphitheater, lounges, and 10 Hunting Biodomes with individual land management facilities which will enable the creative owner to create Rare, Unique and Exotic creatures. Mining and PVP areas are available. In addition the Resort will feature Owner Operated PA System for Streaming Music and Video to biodomes and screens/billboards strategically placed throughout the space resort and for a fee even a Planet side Video Billboard Network located in all major towns and cities can be accessed for marketing.

No teleporter available at the resort, travel to and from the resort only by Space ships.
Gotta love that last detail. As readers of this blog know, I've long been intrigued by in-game economics, and wrote a huge piece about this last year for The Walrus — it's online here if you want to read it.
(By the way, that picture above is not of the space station — I couldn't find any images of it online. That's just a random in-game shot.)
(Thanks to Morgan for this one!)
blog comments powered by