January 19, 2007
Sending good vibes to Heather Gold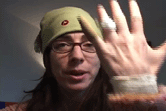 (UPDATE: Heather's doctor visit is over, so there's no need to send her any more IM messages. But I'll leave the rest of this posting up in its original form for posterity's sake!)
You may have read about the debates over whether praying for a sick stranger can improve his or her health. But can "good vibes" improve someone's fear of seeing the doctor?
Comrades, it's time to find out. My friend Heather Gold's elbow got broken a while ago, and has an important doctor's appointment that she's terrified of — and which she's going to right now. So she put up a request on her blog asking people to send her "good vibes" between 1 and 3 pm Pacific Time. The best way is by instant messaging her at her handle scoobyfox; all IMs will be instantly forwarded to her phone. As she writes on her blog:


I broke my funny bone a few months ago. I have an important medical appointment today and I'm nervous. Please send me good vibes for my hand and a smiley face or joke for the rest of me today between 1-3 PST. California has gotten to me. This is really proving that everything I mock, I become.
Science in action! I'll report back whether she felt better.
blog comments powered by