February 07, 2007
The death of privacy, and the next generation gap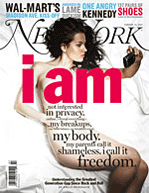 In the current issue of New York magazine, there's a piece by my wife, Emily Nussbaum, that makes a terrific argument: Today's social technologies are creating the biggest generation gap since rock and roll — with younger people having radically different ideas than their parents about what's public and what's private. After growing up with MySpace confessions, Flickr cameraphone photosets of parties posted before everyone gets home, and endless commenting in each other's online journals, young people have adapted to the idea that information about their personal life is now porous, and not always under their control. For their generation, privacy's dead — so they're making the best of it. As she notes:
When I was in high school, you'd have to be a megalomaniac or the most popular kid around to think of yourself as having a fan base. But people 25 and under are just being realistic when they think of themselves that way, says media researcher Danah Boyd, who calls the phenomenon "invisible audiences." Since their early adolescence, they've learned to modulate their voice to address a set of listeners that may shrink or expand at any time: talking to one friend via instant message (who could cut-and-paste the transcript), addressing an e-mail distribution list (archived and accessible years later), arguing with someone on a posting board (anonymous, semi-anonymous, then linked to by a snarky blog). It's a form of communication that requires a person to be constantly aware that anything you say can and will be used against you, but somehow not to mind.

This is an entirely new set of negotiations for an adolescent. But it does also have strong psychological similarities to two particular demographics: celebrities and politicians, people who have always had to learn to parse each sentence they form, unsure whether it will be ignored or redound into sudden notoriety (Macaca!). In essence, every young person in America has become, in the literal sense, a public figure. And so they have adopted the skills that celebrities learn in order not to go crazy: enjoying the attention instead of fighting it — and doing their own publicity before somebody does it for them.
Obviously, I'm biased, but I think the piece rocks! And it's a superb corrective to the endless "what's wrong with the kids of today" crap that you get any time anyone over the age of 40 tries to write about MySpace.
blog comments powered by