February 25, 2008
Why solitary workers can be faster workers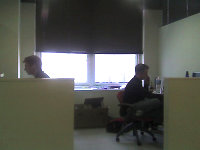 For years, I've worked in isolation — either sitting alone in my office, or, recently, sitting in a rented cubicle in New York. I haven't had a job that required me to work physically alongside coworkers since 1998.
And maybe that's been a good thing for my productivity — because according to a new study, when you can see other workers performing different tasks out the corner of your eye, it slows you down. Tim Welsh, a kinesiologist at the University of Calgary, organized a nifty experiment in which he asked a subject to perform a task on a computer, alongside a partner performing a different computer task. Then he'd get the subject to perform the task while his partner went off to another room.
The result? When subjects were working alongside companions, they worked more slowly. Welsh theorizes that when we watch someone else performing a task, it triggers our mirror neurons, and mentally we begin modelling the task ourselves. If we're simultaneously trying to complete our own, different task, the signals get crossed — and we slow down.
Welsh reports his results — "Seeing vs. believing: Is believing sufficient to activate the processes of response co-representation?" — in the December 2007 issue of the Journal of Human Movement Science, but, alas, it's behind a paywall.
But as he concludes in this press release:
"In a situation where speed and accuracy in performing a certain task are important, I think an argument could be made for a work setting in which people work in isolation — or at least with people who doing very similar tasks," he said. "That will remove the involuntary modeling of another's behaviour, potentially improving speed and likely accuracy."
If his conclusions hold water, they'd have some interesting implications for labor-resource management. For one thing, it might be that private offices would sufficiently improve the productivity of a corporation that it would offset the cost of giving employees private offices.
(Photo courtesy nycbone's Creative Commons Attribution Share-Alike license!)
blog comments powered by